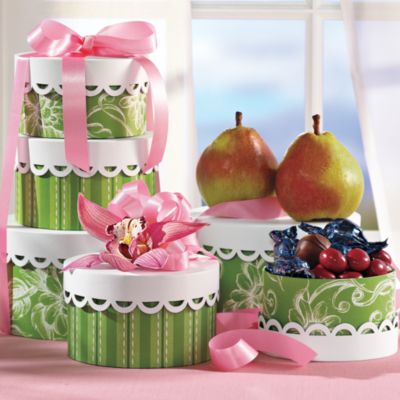 This is the ultimate Mother's Day gift (and a great combo deal).
STEP ONE: Start at Ebates. If you are a new Ebates account holder then you will get $5 to sign up (making this deal even better).
STEP TWO: Click to Harry and David from Ebates.
STEP THREE: Click on the Mother's Day banner. On page three of the gifts there is a "4 month fruit of the month mother's day gift club". It comes with free shipping and is on sale for $99.95 ($149.80 value before shipping). Click on it.
You have a choice between a 4 or 6 month club. The picture in the post is what will be shipped the first month (it is a May Spring Orchid Corsage Tower). The second month she/you will receive Springtime Royal Riviera Pears. The third month she/you will receive Dark Sweet Cherries and the last month she/you will receive Oregold Peaches.
For an extra $30 before coupon/rebate ($23.04 after coupon/rebate) you can add two more months. September's product is Exotic Nectarines and October's product is Royal Riviera Pears. The value of this package is $212.78.
STEP FOUR: Choose which one you want and checkout with the coupon code DISCOUNT20. It will take $19.99 off the four month club or $25.99 off the six month club.
STEP FIVE: Ebates will automatically credit you with your rebate. Your final price after the coupon and rebate is:
$76.76 for the 4 month club. That is $19.19 a month for a new gift set, shipped!
$99.80 for the 6 month club. That is $16.63 each month!
This offer is good through May 10th.