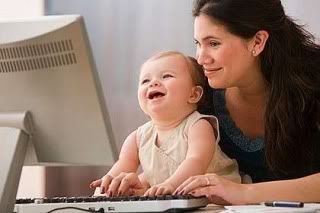 Well, it's officially the week between Christmas and New Years – time to start thinking of those New Year Resolutions! Of course, there are the "usual" ones…. lose weight, save money, things like that. Don't worry, I will cover both of those. Then there are my blog resolutions. What topics should I cover next year?
I like series posts. They are fun to write and engaging to read. I tend to shy away from them at the end of the year since there is so much going on, but January is a new day!
So, I am going to be re-visiting and writing new series posts on how to make money at home. Saving money is easier when you have "spare" income. You can put all your extra towards a goal. That goal can be paying down debt, paying off a mortgage, going on a vacation, or even that designer purse you've been wanting.
So here is my list, please help me add to it if you think of something I missed!
Ebay – I wrote a six part series on how to sell on ebay at the start of 2009. I will be updating some of the tools, fees, etc. I will also be answering new questions – just send me an email or leave a comment and it will be included!
Mystery Shopping – This is one of my favorite ways to earn extra income. You don't make much, but it does help the "shopper" in you. I have written a few posts on mystery shopping, but nothing "formal". I plan on doing a series on this as well, including updating the posts I have written – How to Become a Mystery Shopper, Organizational Methods in Mystery Shopping, and What you Need as a Mystery Shopper.
Grocery Savings – Of course!! This can give extra income to anybody who is spending more than they could be on groceries. Our family of three (almost four!) has a budget of $200 a month and most months we are closer to the $150 mark. That includes all of our household supplies, which brings me to the next way to earn extra income while at home…
Drugstore Games – I have a CVS and Walgreens in this area and I post the matchups every week. Playing the "drugstore game" is an easy way to save lots of money. Some people sell the free items they get to make even more money. I like to give a lot of my items to charity. For those of us who cannot give as much cash as we would like, this will become great way to help out in your community. The money you save on your own products will give you extra income for other things you need.
Creative and Crafty Selling – One way to earn money is to sell products that you make. Many of the WAHM's that I interview do just that! You need to have a skill, but then you can put that skill to work. There are some great and easy ways to start up a business at home and I will help show you how.
Blogging – This is another way that you can earn a little extra income. It can take some time to get it started, but there are some great resources you can use to help!
Home Businesses – These are things like Avon, Mary Kay, Southern Living at Home, Tupperware, Private Parties, Uppercase Living…. There are many of them. I will be going through a few of the main ones (and interviewing sellers when I can find them) to help you find the best business for you.
Online Programs – This one is easy, but the amounts you make can be small. Swagbucks and IRazoo are both programs that pay you to search. Cashcrate pays when you complete surveys and offers. Those are my three favorite. There are lots more though and I look forward to hearing what your experiences are with them.
Is there anything you would like to add? I am thinking about doing one series per month, which ones are the most intriguing to you?