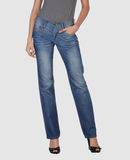 This site has some nice stuff! I must warn you, some of the prices are still high, but there are some great deals on some high value brands (Armani, Dolce & Gabbana, Versace, and more). They have jeans, shirts, swimsuits, purses – anything you can imagine. You can combine this with a rebate. The lowest price item is a tank top, regular $60, on sale for $9. The highest is a blazer regular $6475.00 on sale for $2590.00, LOL! There are lots of items under $40 though, including some really nice jeans.
STEP ONE: Start at Ebates and use their link into Yoox. Click on their last chance summer sale items and choose what you want.
STEP TWO: Checkout. Ebates will automatically credit you with 9% of your purchase! That tank top would only be $8.19 after the rebate (the blazer would only be $2356.90 in case you were wondering). The jeans in the picture would be $27.30 after the rebate (regular $135).