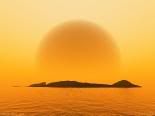 Air conditioning is typically the biggest drain on electricity in a home!? That said, it is hard to get something (anything!) done if you are stuck in a 90 degree house with 95% humidity. Plus, if it gets too hot then it becomes unsafe. I do not think that frugality should ever be uncomfortable! But, there are a few things that you can do to help.
Weatherproof – many people think about weatherproofing in the winter when the air is drafty. But, those leaks are still there in the summer heat and they will make a bad impact on your pocketbook.
Raise the Temperature – Every degree below 78 will cost an average of 4% extra on your bill. Start high and move down only if you need to – that way you will get the highest comfortable temperature.


Ceiling Fans and make them Spin the Right Way! In the summer the fans should be spinning down (counter-clockwise). You should feel the air blowing down on you. There is usually a switch on the side of your fan so you can change the direction at the start of the new season.
Programmable Thermostats – Just like with heat in the winter, a programmable thermostat can save a lot of money in the summer. Set it up so the house warms up when you are gone and begins to cool off just before you get home again. If you are okay with it being a little warmer at night then program that.


Close the Registers and Doors in Unused Rooms – If you aren't using the room then close the register and door. There is no need to cool the room if nobody is in it!


Replace your Filter – Replace the filter every 1-3 months for best results. The last study I saw did not find significant (money saving) difference between the most and least expensive filter types.
Shade your Condenser Unit – Units in full sun use 10% more energy
Window Shades – When your windows are facing the full sun close the shades/drapes. Solar energy can really heat the house fast!
Rice Packs – Rice packs are great for heat, but they can cool you off too! Put it in the freezer and when you are feeling like you need to turn the air down put it on your head and see if that helps.