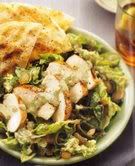 It's time for another Dinner under $10 recipe thanks to Everyday with Rachael Ray
!
Today's recipe is Chicken Fajita Salad with Poblano Buttermilk Dressing and it is in the May issue of the magazine. To see more dinner recipes under $10 you can go to my dinners under $10 category.
Everyday with Rachael Ray, May 2009
Serves 4; Prep 30 minutes (plus marinating); Cook 30 minutes
Ingredients
2 skinless, boneless chicken breasts (about 1 pound)
¼ cup plus 2 tablespoons extra-virgin olive oil
2 poblano chiles, halved and seeded
1 sweet onion, thickly sliced
¼ teaspoon cayenne pepper
1 large head romaine lettuce, torn into bite-size pieces
Directions
Preheat a grill or grill pan to medium. In a shallow bowl, pour all but 2 teaspoons of the lime juice over the chicken. Add a tablespoon olive oil and turn to cat; season with salt and black pepper. Cover and let marinate at room temperature for 15 minutes.

Meanwhile, in a large bowl, toss the chiles and onion with 2 tablespoons olive oil; season with salt and black pepper. Transfer the chiles to the grill and tent with foil. Grill, turning occasionally, until softened, 10 to 15 minutes. Transfer to a large bowl, over and let stand for 15 minutes. Meanwhile grill the chicken and the onion, turning once, 5 to 6 minutes on each side; let cool.

Peel the chiles and slice. Using a food processor, puree one-third of the chiles with the buttermilk, 1 tablespoon olive oil and the remaining 2 teaspoons lime juice; season with salt and black pepper. Transfer the remaining chiles to a medium bowl. Coarsely chop the grilled onion and add to the sliced chiles.

Brush the tortillas with the remaining 2 tablespoons olive oil and season with the cayenne, salt and black pepper. Grill, turning once, until crisp, about 2 minutes; cut into wedges.

In a large bowl, toss the romaine lettuce with half of the poblano dressing. Slice the chicken and serve on top of the romaine. Add the chile-onion mixture and the remaining dressing; serve with the grilled tortilla chips.