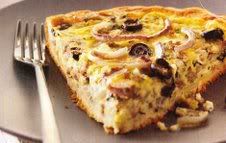 It's time for another Dinner under $10 recipe thanks to Everyday with Rachael Ray
!
Today's recipe is Biscuit Crusted Sausage Egg Pie and it is in the May issue of the magazine. To see more dinner recipes under $10 you can go to my dinners under $10 category.
Everyday with Rachael Ray, May 2009
Serves 4; Prep 30 minutes; Bake 25 minutes
Ingredients
1 ½ teaspoons extra-virgin olive oil
½ pound bulk pork breakfast sausage
1 ½ tablespoon chopped fresh oregano
4 pieces refrigerated biscuit dough, such as Pillsbury
1 red onion, thinly sliced
2 ounces crumbled feta cheese
¼ cup kalamata olives, sliced
2 large eggs, plus 2 large egg yolks
Directions
Preheat the oven to 375*. In a large skillet, heat 1 teaspoon olive oil over medium-high heat. Add the sausage and oregano and cook, breaking up the sausage until just browned, about 5 minutes. Drain and let cool.

Grease a 9-inch pie pan with the remaining ½ teaspoon olive oil. Place 1 piece biscuit dough into a large resealable plastic bag and, using a rolling pin, roll into a 1/8-inch-thick disk. Remove the dough from the bag and transfer to the prepared pie pan. Repeat with the remaining dough pieces, pinching the pieces together in the pan to form a crust.

In a large bowl, combine the cooked sausage, onion, feta and olives; spread evenly over the crust. In a medium bowl, beat the eggs, egg yolks, milk and 1/8 teaspoon each salt and pepper. Pour the egg mixture over the sausage mixture and bake until set, about 25 minutes. Let cook for 10 minutes before serving.