This week I talked to Patricia from Silver Dragon about her beautiful jewelry! I have always been amazed at people who can make such intricate beautiful jewelry pieces. I wish I had artistic talent, but the stars were against me starting in Preschool when I kept forgetting to put the arms on my stick people (they always looked so out of place!)
Patricia does beautiful bead weaving. She said that she has been painting since she was small and so it wasn't a stretch to try other forms of art. She focused her attention on becoming a professional ballerina and dabbled in textile arts while she was doing that. She said she adored textiles since she was four years old! She ended up leaving dance and trying astronomy, painting, and drawing. Eventually she taught herself bead weaving from a Carol Wilcox Wells
' book. It sounds like Patricia tries a little bit of everything! She even has a bachelor degree in Math and Physics!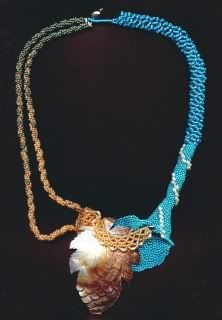 She loves to experiment and while doing that she came up with a new bandweaving stitch that she calls the Vener Chain Stitch. It looks like interlocked chains, but it is actually only one thread. This stitch is going to be featured in the July/August issue of Step By Step Beads!
Inspiration comes exactly the same way as for paintings. I see, feel, create in my mind and I can be inspired from anything from sunsets to mathematical equations. A lot of my designs come to me in that wonderful moment between waking and sleep when I am aware of my subconscious and it is aware of me. I suspect this happens to a lot of artists.
She said one of her biggest challenges is educating people about the benefits of buying and collecting art and that owning high quality handmade work adds to the quality of life. I completely agree with this with everything from expensive artwork down to handmade soap. The quality and attention given to something handmade can never be matched by a mass produced product.
Art is nutrition for the soul, it is the difference between living and merely surviving.
Patricia has offered a limited edition Russian Triangle Weave necklace and earring set to giveaway! It is absolutely beautiful! To be entered into this giveaway all you have to do is:
Go to Silver Dragon, find your favorite product and leave a comment here saying what it is!
You can get extra entries by doing one (or all) of the following. Make sure to leave a separate comment for each!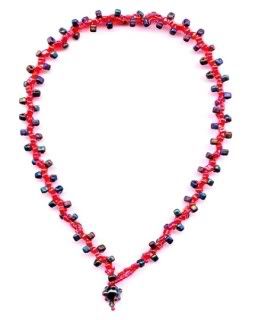 Refer a WAHP or sign up for a free WAHP Wednesday post
Post my button on your blog or website
I will find a winning comment number on Tuesday May 5th, post it on my blog, and the winner will have 48 hours to contact me with your address! If you leave your email (or have it and your blog posted in your profile) then I will email you and post that you won on your blog.