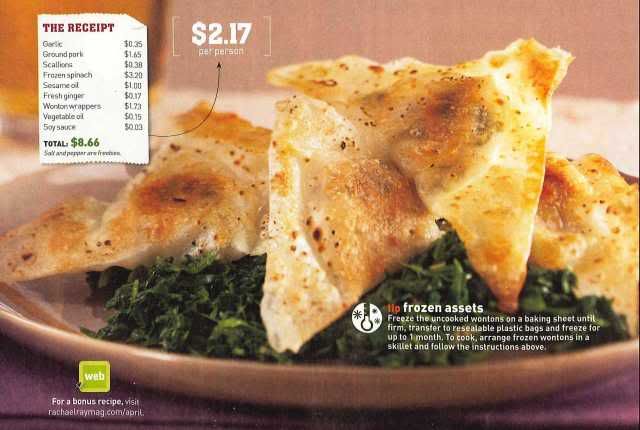 It's time for another Dinner under $10 recipe thanks to Everyday with Rachael Ray
!
Today's recipe is Pan Fried Pork Wontons with Spinach and it is in the April issue of the magazine. To see more dinner recipes under $10 you can go to my dinners under $10 category.
SERVES 4 PREP 35 min COOK 25 min
4 scallions, thinly sliced
Two 10-ounce packages frozen chopped spinach, thawed
1 tablespoon finely chopped fresh ginger
40 square wonton wrappers
3 tablespoons vegetable oil
Line a baking sheet with parchment paper. Using a food processor, finely chop the garlic; transfer half of the chopped garlic to a small bowl. Add the pork, scallions, ½ cup spinach, 1 tablespoon sesame oil, 1 teaspoon salt and half of the ginger to the garlic in the food processor; pulse to combine. Transfer the mixture to a bowl and season with pepper. In a colander, drain the remaining spinach, squeezing to remove any excess moisture.

Arrange 10 wonton wrappers on a work surface. Top each with a heaping teaspoon of pork mixture. Moisten the edges of each wrapper with water and, working with one at a time, fold over to form triangles, pressing the edges to seal. Transfer the assembled wontons to the prepared baking sheet. Repeat with the remaining wrappers and filling.

Working in 3 batches, in a large nonstick skillet, heat 2 teaspoons vegetable oil over medium-high heat. Add one-third of the wontons and 1 cup of water; cook for 4 minutes, then turn and cook until the water has evaporated and the wontons are browned on one side, about 3 minutes. Transfer, browned sides up, to a plate and tent with foil.

Wipe out the skillet. Add the remaining 1 tablespoon sesame oil, garlic and ginger to the skillet and cook over medium-high heat, stirring constantly, for 1 minute. Add the remaining spinach and cook until warmed through, about 2 minutes. Stir in the soy sauce; season with salt and pepper. Serve the wontons on a bed of spinach.