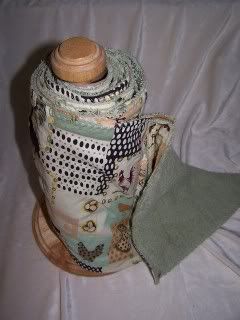 It is WAHM Wednesday! Today we are going to meet Heather from "For the Love…" She said she was in the habit of saying "For the Love…" whenever something crazy happened and it just stuck. She sells her products for the love of creativity on the Creatively Serene Congo.
Heather sells unpaper towels, which are fabric paper towels. It saves the earth because you are not using paper products and it saves money because you are not having to buy paper towels. You can use anything as an unpaper towel. But, Heather's ingenious design allows me to use my unpaper towels all the time, even when I have company! They are so pretty and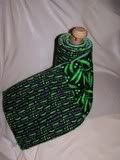 handy that instead of getting questions I get compliments! When I bought my unpaper towels Heather was the only one who was selling this wonderful design.
Heather has always been creative with her designs. She usually does not even use patterns when she sews! She said she has been sewing since she was a Freshman in highschool. One of her early projects was making jeans and a flannel shirt for her dog (before clothing for pups was popular). She designed the pattern and made the outfit!
She had seen unpaper towels, but couldn't help thinking that there must be an easier (and more decorative) way to use them. She had just gotten her snap press and the idea blossomed from there! Heather's unpaper towels snap together and the very first one snaps onto a paper towel roll. Tada – you have a "real" paper towel roll of cloth! Pull them out for company and let the compliments roll in. Pull them out for your own use and you won't stop smiling when you think of the earth and money that you are saving!
Heather said that after her towels were a hit she branched out and sold other products. One of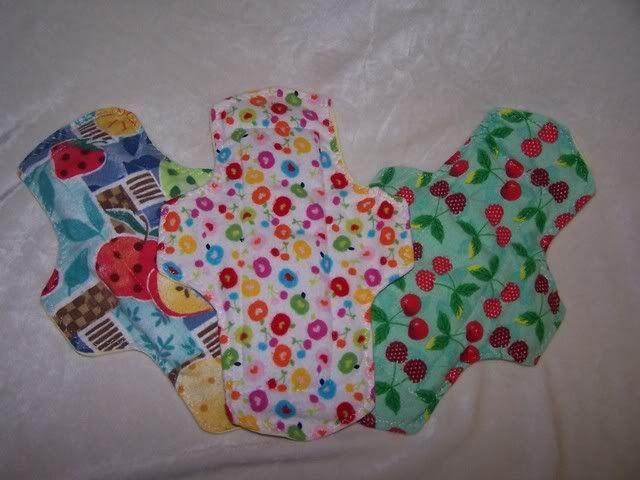 her other big sellers is "mama cloth". These are cloth menstrual pads! Again, the money and earth you can save by using them is mind boggling. Women who use these swear by the comfort and health benefits. I must say that my first reaction to "mama cloth" was probably what many of my readers are thinking right now. But, keep an open mind! When I researched cloth pads I was surprised to find that people who use them report less cramping and have shorter cycles! It turns out there are some ingredients in the typical disposable pad that makes your cycle last longer and because of that it can cause cramping. Hmm… very interesting!
Heather says that the most challenging thing about her business is finding time. She has a 2 1/2 year old son and a daughter on the way! Her cart stocks on February 2nd (for those of you who are not familiar with the hyenacart world – a stocking is when the items become available for purchase). Until then, she does have previews of the items that will be for sale.
Heather has offered to also host a giveaway! The winner will get a set of 3 mama pads! Those of you who just aren't sure – this is your chance 🙂 Those of you who know you want them – then this is for you too!
You will get one entry into the giveaway for doing each of the following:
1 – Leave a comment about what you love about one of her products. Remember previews are up, but you cannot make a purchase until Sunday!
2 – Follow or subscribe to this blog (leave a comment saying you do)
3 – Blog about this giveaway and the opening of Heather's store on Sunday (please leave the link in your comment)
A winner will be chosen using randomnumber.org on the evening of Tuesday February 3rd. I will post the winner and also post it on your blog and email (if you leave that information). You will have 48 hours to contact me with your address or I will choose another winner 🙂
Good luck! Remember to visit Heather at her grand opening on Sunday!
________________________________________________
If you are a WAHP and you're interested in participating in WAHM Wednesday then please email me at LittlePeopleWealth (at) GMail (dot) Com or use the contact link on my contact page.