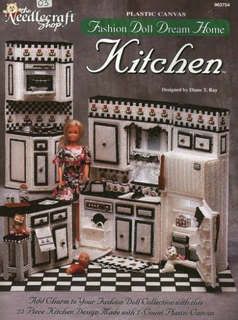 This is a little different than my typical Thrifty Tips! Yesterday I posted about using Unpaper Towels, which is a great thrifty (and green) tip for your home so here is a fun one for you and your daughter!
Make your own Barbie Furniture! This would be a great project for you and your daughter to do together or something you could do as a gift. I was searching online and I came across these amazing plastic canvas pattern books. For those of you who haven't worked with plastic canvas before, it is really easy to work with! Start with one of the easier pieces and you should be able to make the more complicated ones in no time 🙂
You can also try your local library to see if they carry any of these pattern books – every page is listed online on this group though so you can click on them and print them out. It is in a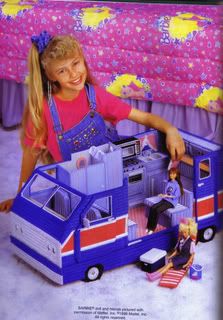 MSN group page so you may have join to see them.
NOTE – I wrote this post almost two years ago and the MSN group that posted these patterns is no longer available. However, I have taken the liberty to find a few of the books online. Sometimes they are available and sometimes they are not so keep checking if it is not in right now:
Homemade Barbie Hearts 'n' Flowers Bedroom

Homemade Barbie Doll Carry & Play – Soda Shop

Homemade Barbie Doll Carry & Play – Kitchen

Homemade Barbie DOLL COUNTRY WESTERN DANCE CLUB
Homemade Barbie Doll Camper Accessories
Barbie Doll Structures & Furniture
By the way, see that killer bedspread in the background of the "Barbie Camper" picture. I'm pretty sure my sisters had that beauty in their bedroom for a few years. I'm thinking we definitely need to bring back the hot pink barbie bedspread.
On that note, sis you know you want to make this! Here is a project to do for your possible little girl in case you end up on bed rest again! Get the supplies now! We will all pretend to believe you when you say it is for your future daughters 🙂 🙂